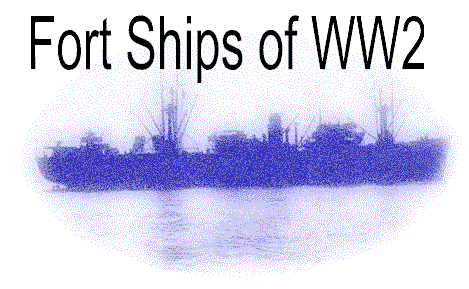 Due to the heavy losses suffered by the Allied Merchant Navy Ships in the early months of World War II, a ship-building programme on a tremendous scale was instigated. Ships were commissioned from Canada and U.S.A. for management by British Shipping Companies.
This web site is dedicated to a particular type of ship, built by Canadian ship-building companies, which all had the prefix 'Fort' in their names along with their sister ships the 'Parks' and the U.S. built 'Oceans'. Also included are the sixteen Royal Navy Maintenance Ships which were commissioned from Canadian West Coast shipyards.
If anyone should have photographs of any of the ships listed on this site, I would be grateful to receive copies

Merchant Navy Day

3rd September every year
We Will Remember Them
For Veterans of convoy RA 66
I am directing a TV programme for BBC Scotland on VE Day. Naval records show that convoy RA 66 arrived on the Clyde on VE Day itself (8th May 1945). I understand that Fort(s) Boise, Massac, and Yukon sailed as part of this inbound convoy, from Russia back to Glasgow.

I'm keen to track down any former sailors who served on those ships and would remember both the hardships of the convoy and (I'd imagine) the parties when they got back to the UK on VE Day.

I have a dedicated email address for public correspondence to the programme: vedayscotland@bbc.co.uk.

Andy Twaddle
Director, "Scotland's Secret War"
BBC Scotland


To Search for a particular ship insert the name (or part of the name) in the box. Please do not include FORT, PARK, OCEAN or other common names like LAKE, HILL etc as otherwise all pages with these prefixes will be included in the list. The hyperlinks will take you to the page where the ship is listed. Use your browser's 'Find' facility to look on that particular page.
05/02/03
An eye witness account of the surrender of U532 added to the U532 page
18/02/03
Roll of Honour. The Men who died on the Fort boats during WW2.
03/05/03
Added a search facility to the web site.

Removed the Table of Contents from the Index Page.

17/06/03
Added a section to the LINKS page for anybody wanting ship plans.
07/01/04
Reports from the Admiralty Records on the sinking of Fort Bellingham added
Send mail to Angela DeRoy-Jones with questions or comments about this web site. PLEASE NOTE - In an effort to reduce spam, when sending email using the link above, please substitute "at" with @ on the email address. Thanks!

Copyright © 2001 Angela DeRoy-Jones
Launched December 2001
Last modified: February 15, 2005